Jarek Kopias
Company Secretary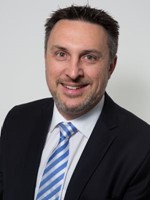 Jarek has 25 years' industry experience in a wide range of financial and secretarial roles within the resources industry. This includes 5 years at WMC Resources Limited's Olympic Dam operations, 5 years at Newmont Mining Corporation in the Australian corporate office, and 5 years at Stuart Petroleum Limited, an oil and gas producer and explorer, prior to its merger with Senex Energy Limited.
Jarek is currently the CFO and Company Secretary of Resolution Minerals Ltd (ASX: RML), and Company Secretary of Core Lithium Ltd (ASX: CXO) and Iron Road Ltd (ASX: IRD). He has held similar roles with other ASX entities in the past, and has other business interests with numerous unlisted entities.
Jarek joined Austral Resources as Company Secretary in July 2021. With his extensive experience as a professional Company Secretary, Jarek is well versed in strategic planning and implementing best practice corporate governance processes. He will be involved in assisting the Board in carrying out its fiduciary duties as well as identifying opportunities for strategic governance and continuous improvement in systems and processes.